Greeters
Everyone needs to feel welcome and you never know when a sim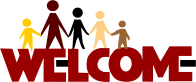 ple, friendly gesture can make a difference in someone's day. Our mission is to greet everyone who walks through our doors and make them feel welcome and at home. It is also an opportunity to become better acquainted with our church community. If you would be interested in becoming part of this hospitality ministry, please leave a message for Diana Galecke at (520) 459-0444.
Lectors


Lectors proclaim the Word of God from the Holy Scriptures. In our services, selected Bible scriptures are read aloud to worshipers by volunteer lay readers. Anyone who can read and comprehend scripture is welcome to join this ministry. To volunteer, or for more information, please contact Mary Alexander (520) 459-8056.
Ushers


Ushers help ensure a smoothly running church service. They minister to people in a variety of ways, such as assisting people with special needs, ensuring bulletins are available, answering visitors' questions, collecting the offering and assisting people to the Lord's Table. If you are interested in being an usher, please contact Anna Bratlien (520) 378-3190.